My name is Faiz Ullah. I'm a junior Email Copywriter. I make money by offering email copywriting. I did not know how to write a couple of years back.
A story of a Copywriter from Balochistan.
I belong to the province of Balochistan, Pishin. Here we do not have electricity or internet available all the time. Doing freelance work in my region and dreaming of working online is unheard of and literally insane to imagine.
Don't believe me?
Take a look at the freelancer map on WorkChest. Notice the pins in my region. You will hardly find a presence here.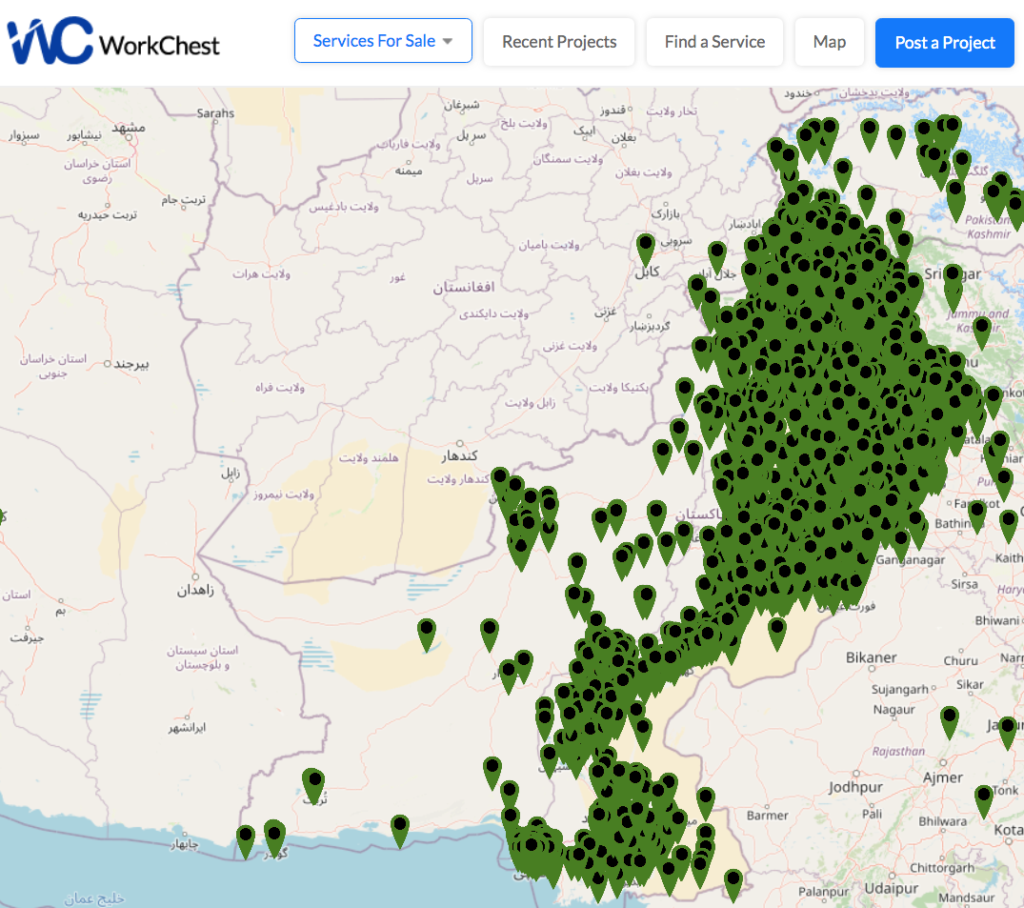 People here do not believe me for what I do and I do not blame them. We are a conventional society, sometimes, it is TABOO to acknowledge what I do. The reason is simple, the majority do not know about the internet.
If you are born poor it's not your mistake, but if you die poor it's your mistake (Bill Gates)
How did it all begin?
This is all the blessing of my Allah and my mentor/teacher Hisham Sarwar from whom I have learned all the things like "Spectrum of Life". I learned copywriting from the internet and freelancing from Digiskills Course
I came across a video recommended on my timeline of Hisham Sarwar on Facebook. I reckon it was sometime around January last year *2020*. The content was about Digital Marketing. I did not know who is Hisham Sarwar. As an obedient student who takes his studies seriously, I asked Professor Kanan Asif sb. He told me about Hisham Sarwar and advised me to learn "Freelancing" from him. The challenge was, I did not know how to use computers. I was unaware of this parallel universe on the internet.
Somehow, I managed to buy a computer. I enrolled in the DigiSkills course. Watched all 204 lectures. He taught freelancing in such a simple, easy, and entertaining method that not only I enjoyed the subject but learned it too. I attempted all assignments in the course and passed with flying colors.
My next obstacle was English. Belonging to Balochistan and deprived of basic necessities of life. Learning English was a real challenge. I must confess, I did not know a single word of English. I wanted to learn English, even basic would suffice, so I could work as a freelancer on any marketplace. The clients there speak English and I was clueless about what to do there.
I came across a video of Alibaba Founder Jack Ma, he said
 ''Before you're 30, work for a small company, learn passion, learn to dream''
I committed to myself to learn this new language and learn a technical skill that would help me set a realistic goal in the future to grow professionally.
Think Big, Dream Big, Believe Big and the results will be Big.
Dreams have a cost. Nothing is for "FREE". I learned five things immediately, they helped me a long way in my journey.
1) Attitude
(a ton of your work)
2) Working in a relaxed Environment but caring for these things
(Jobs, Deadline & Time)
3) Stay on the Clock
4) Avoid Distractions
(Ultimately it means, FOCUS hard)
5) Communication
(Concise and to the point)
In order to improve my communication and English, I started reading novels, books, read articles on the Being Guru blog. For practice purposes, I used to write daily 500-700 words daily. I began to invest in my future. The only way I could make money on the internet is through good communication skills and written English.
I was spending a lot of time reading books and watching videos. The effort paid dividends as my vocabulary enhanced and selection of appropriate words increased.
My journey on Fiverr:
After learning how to write good content *Grammarly helped me a lot*, I created an account on Fiverr. After several failures, I finally managed to get my first project. I delivered it with five stars. My dream came true. I was able to make money online. This was the most joyful and memorable day for me.
I told my mother about my success. She was happy about my little achievement. I've told her about my teacher Sir Hisham. She prays for him for teaching his son how to earn. I'm thankful to him for showing me the right path for achieving success and teaching me about the right values of life through his video lectures.
My blogging Journey:
Initially, I faced a lot of problems in blogging. I did not have full command over written English and primarily — writing SEO content. I learned blogging from Hisham's youtube channel. Around this time, I decided to develop my WordPress website.
The website is doing good. I am exploring more avenues for making money in life but rest assured, if someone like me who could not speak a single word of English, works hard, and gets determined to do something online, I do not see a reason why everyone else should not. Especially, if you live in a city where you're blessed with basic necessities of life such as electricity, internet, etc.
Conclusion:
The purpose of sharing this story is to encourage everybody to keep striving towards their dreams and believe in themselves because nothing is impossible in life. My story may inspire you to succeed in the face of failures, setbacks, and obstacles.
No, I am not a millionaire. I am not even thinking about money right now. But the initial stumbling blocks are toppled off, little by little and I am moving forward and growing each day.
I've learned the life is not what we think it is, it is complex but we've to find out way through. When you know your true self, well ahead of time, work on your shortcomings, and improve your skills and abilities, you will be able to move forward and grow in "personal as well as in professional life".
The purpose of sharing the below links is two-fold.
1- Follow me so we can stay in touch. I believe your network is everything and it helps you grow in life.
2- Put your presence on the internet. You never know which particular platform do wonder for you and help you in achieving your goals faster. Give yourself a chance. It does not cost a dime to create your social media presence on all platforms.
Blog- https://faizideas.com/
🗣Facebook Page – https://www.facebook.com/faizideass/
✍️Twitter – www.twitter.com/Faizideas
📸Instagram – https://www.instagram.com/faiz.ideas/
Linkedin– https://www.linkedin.com/in/faiz-ullah-b575a11a2
Youtube – https://bit.ly/3ibNA7C 
Pinterest:- https://www.pinterest.com/faizideas/
Medium: – https://faizideas.medium.com/